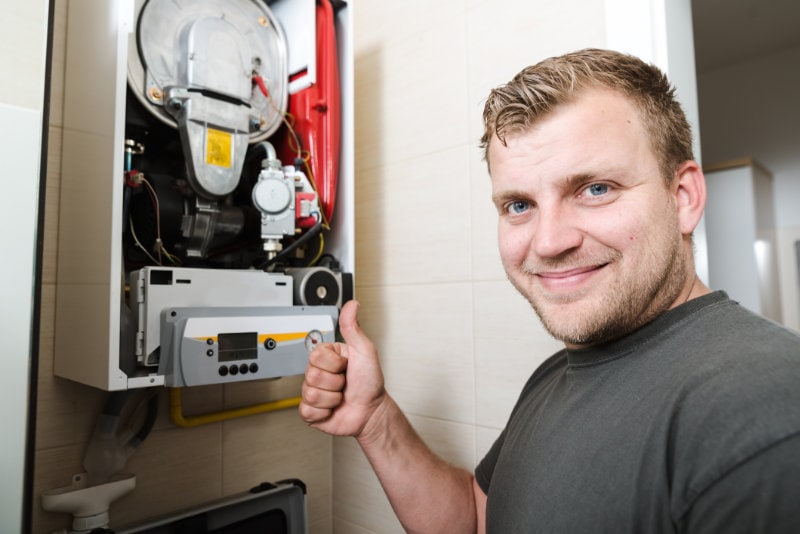 Your furnace is a hardworking member of your Portland household—but one day, it will need to retire. Parting with your furnace is never an easy decision. You may wonder if getting another repair is worth it, or if it's time for a replacement.
Heating systems are a major investment, so it's good to self-assess before making that next purchase.
At HomeRx Heating & Air Conditioning, we know it's no fun to have a faulty furnace this time of year, especially if you're on a tight budget. That's why we're offering a limited $1,000 cash incentive to income-eligible households and customers whose employment has been affected by COVID-19.
HomeRx is proud to partner with the Energy Trust of Oregon to bring you this special offer. We'll install select gas furnaces with 90 percent annual fuel utilization efficiency (AFUE) or more for as low as $2,962.This one-of-a-kind offer is available now through March 31, 2021.
If you're wondering whether you need a new furnace, here are a few questions to ask:
How Old Is Your Furnace
The average life expectancy for a gas furnace is about 15 years, according to ENERGY STAR®. The number of years it operates also depends on how well it is maintained. Heating systems that don't receive yearly maintenance have shorter lifespans. If your furnace is more than two decades old, it might be time to upgrade.
Does Your Furnace Need to be Repaired Frequently?
Frequent breakdowns indicate your furnace might be past its prime. If it seems like you need to pay for a new repair every couple of months, a replacement plan might be a more cost-effective solution. The professional repairing your heating unit can also provide insight to inform your decision.
Have Your Utility Bills Gone Up?
If you've noticed a strange uptick in your heating bills, it might be your furnace telling you it's had enough. As the mechanical parts begin to wear down, your system will start to run less efficiently.
Thanks to new innovations and regulations, furnaces manufactured within the past five to 10 years have much higher AFUE ratings than their older counterparts. Check out our AFUE calculator to compare your current furnace to newer models and see how much you'll save.
What Does My Technician Think?
Still hemming and hawing? A HomeRx professional can help you out. We offer free consultations before every installation. We'll always provide an honest assessment—we know furnaces are a considerable investment, so we won't advise you to get one unless you need it.
Set Up A Furnace Replacement Today
We hope this self-assessment was a help. If you need assistance with anything related to air conditioning, heat pumps, or water heaters, call HomeRx Heating & Air Conditioning's Sherwood, OR headquarters at 503-479-5290. We also have locations in Bend, OR, and Tukwila, WA. Or you can request service online today and get started right away!.
If you're thinking about replacing your gas furnace, be sure to see if you're eligible for our limited $1,000 cash incentive. Don't wait! The offer is only available through March 31, 2021.