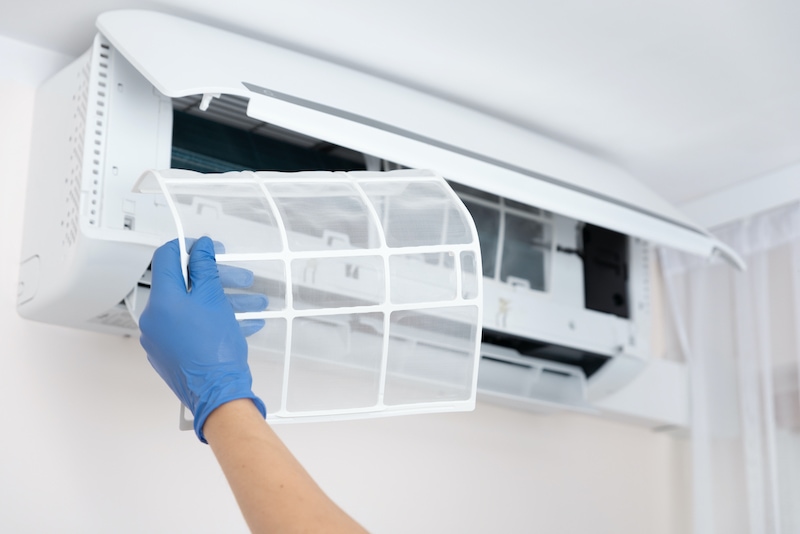 As all of us in Oregon do our part to help stop the spread of COVID-19, or novel coronavirus, maintaining the indoor air quality of our homes and businesses is more important than ever.
Whether you are staying home right now or running a business, your indoor air quality is a top priority. A little spring cleaning to get rid of any dust and debris that accumulated over the winter will go a long way in keeping your heating, ventilation, and air conditioning (HVAC) system free of any harmful contaminants.
You do your part by cleaning your home and our trained experts will do our part by cleaning your HVAC system. At HomeRx, our indoor air quality specialists will inspect, clean, and tune up your system to improve your system's performance and energy savings. More importantly, maintaining your system like this can improve your air quality, helping to keep you healthy and free from damaging contaminants of various types.
Change Those Dirty Air Filters
Your HVAC air filter is designed to grab as much dirt, dust, and debris as possible before air moves through your furnace or air conditioner. Air filters perform the important task of cleaning your air as well as protect your HVAC system from damage.
Most filters require changing or cleaning every 90 days—and possibly more often if you have pets in your home or someone who smokes. Disposable air filters are readily available and have a range of filtration levels.
If someone in your home has asthma, allergies, or other chronic lung diseases, it may be wise to invest in a Trane CleanEffects™ whole house air cleaner. According to the Trane, CleanEffects™ whole house air cleaners remove up to 99.98% of allergens from the filtered air and removes particles down to .1 micron in size.
Maintain Those Air Ducts
If you are horrified at what you might find crawling behind your stove or that heavy dresser, can you imagine what lurks inside your air duct system? These ducts are responsible for distributing heated and cooled air year-round. Keeping them well-maintained and tightly sealed only makes sense.
Poorly sealed air ducts force your HVAC equipment to work harder, costing you money. Those leaks and tears also allow dust and other contaminants to infiltrate your system—including insects and rodents. Properly maintained air ducts are like a breath of fresh air. Call us today to seal those leaks and improve your indoor air quality.
Inspect Those Nooks and Crannies
Springtime is a great time to have your air conditioning system inspected and cleaned professionally. Our experts will inspect, clean, tighten, and adjust all the components on your cooling system for an affordable maintenance package price.
Just as the dust manages to settle in every nook and cranny of your home, it can find its way into your HVAC system. A dirty air conditioner is more likely to struggle and break down, as well as lower your indoor air quality.
Establish Ongoing Routines and Systems
Your mother probably told you, "If you just keep your room clean in the first place . . . " This is a wise piece of advice. Once you finish your HVAC spring-cleaning checklist, you can keep your air quality cleaner year-round with a few simple steps:
Regularly clean and dust your home and use a HEPA vacuum bag. Turn on your kitchen fan to remove smoke and other cooking fumes regularly. Adding some indoor plants also helps improve your indoor air quality.
Consider investing in an air purification system that can further reduce dust, allergies, odors, and even viruses and bacteria. Give us a call and our team will go through the different cleaning systems and technologies with your to find the best fit.
Call Your Indoor Quality Air Experts
Maintaining your indoor air quality is always important, and these days it has become even more of a priority in Oregon. If you have any questions about your HVAC system or indoor air quality, call our team at HomeRx. We are here to share our services, recommend products, and answer your questions. Call us today at 503-479-5290 or request service online.