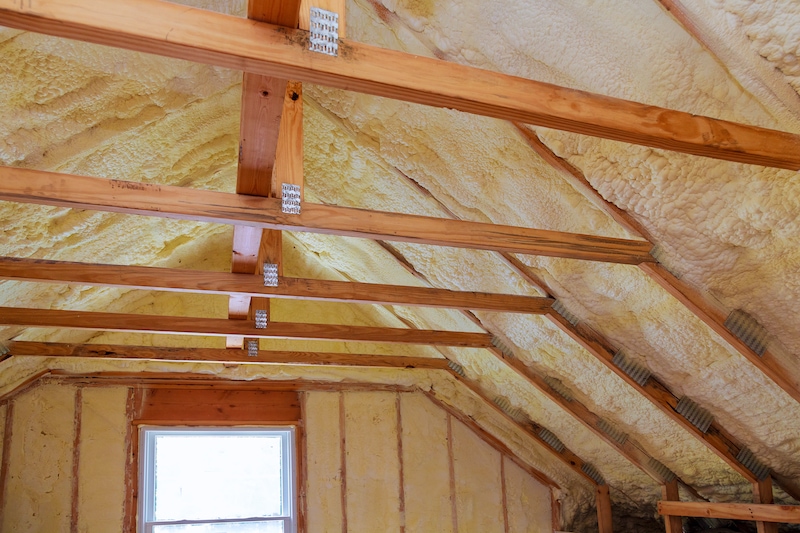 When you think of insulation here in Portland, Bend, or Seattle, you probably tend to think about reducing heat loss in the winter. Although insulation certainly keeps your home warmer in the colder weather, it also does a good job holding cool air inside your home during the summer. Our HomeRx Heating & Air Conditioning team of professionals wants to help you and your family save money as well as use your air conditioning system as efficiently as possible this summer.
What Are the Different Kinds of Home Insulation?
Insulation is a material that provides a barrier between the indoor and outdoor air. Three major types of insulation are typically used in Oregon or Washington homes: foam, fiberglass, and cellulose:
Foam Insulation
Spray foam is made from water-blown and organic chemical compounds. It's one type of foam insulation and can be used in new buildings, attics, rim joists, and crawl spaces. Applied in a liquid state, the spray foam expands to fill the given space.
Fiberglass Insulation
Made from primarily tiny glass fibers, fiberglass insulation is sold in batts or rolls and can be installed within unfinished walls, ceilings, and floors. This type of insulation is usually tucked between studs, beams, and joists to protect from heating or cooling loss.
Cellulose Insulation
The final type of insulation, made from 80 percent recycled newspaper and 20 percent fire-retardant material such as boric acid, may be loose or blown in. Cellulose insulation is usually placed in existing walls or cavities and can also be used in unfinished attics.
How Is Insulation Rated for Performance?
The building and construction industry measures the performance of insulation by R-value, which measures how well the insulating material works. The US Department of Energy (DOE) defines R-value as a measurement of thermal resistance of an insulating material's resistance to conductive heat flow.
When it comes to choosing insulation, the higher the R-value, the better the insulation. The industry typically recommends an R-value of between 13 and 23 for exterior walls and between 38 and 49 for ceilings, attics, and crawl spaces.
However, it's important to remember that insulation is only one part of the equation for efficient use of your heating, ventilation, and air conditioning (HVAC) system.
How to Save More Money This Summer
According to ENERGY STAR®, you may be able to save an average of 15 percent on heating and cooling costs by sealing your home and adding insulation in your attic, crawl space, and basement rim joists. However, don't forget other ways you can be energy efficient, environmentally conscious, and reduce your utility bills as well:
Schedule a maintenance visit. It's always a good idea to schedule an appointment with one of our HVAC professionals at least once per year, and preferably before using your air conditioner and then your furnace for the first time each season. By having our experts inspect, clean, and tune up your system, you will not only be able to run your system more efficiently, but you will also be more protected from unexpected breakdowns and costly emergency repairs.
Reduce or eliminate heat generators. Much of the heat in our homes in the summer actually comes from inside our homes themselves. Try to run heat-generating appliances less frequently by grilling outside, eating cooler foods, and hanging out clothes to dry. Power down your unused electronic equipment as well, and you will keep things cooler inside.
Block that sun. It may seem like a small thing, but keeping your windows covered in the hottest parts of the day can make a big difference. Longer range plans can include planting shade trees outside your home to block the sun's powerful rays.
Contact HomeRx Today
To schedule an appointment or learn more about insulation or other ways to save energy this summer, call HomeRx Heating & Air Conditioning in Portland, OR, Bend, OR, or Seattle, WA. Our trained experts would be happy to come out and provide a thorough maintenance checkup to help keep your air conditioning system running efficiently throughout the summer. Call us at 503-479-5290 or request service online.