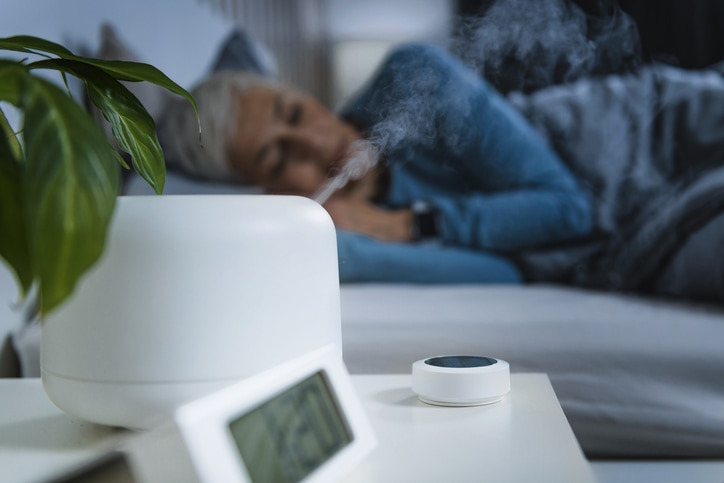 There are more than 41,000 reasons why you should improve the indoor air quality (IAQ) in your Pacific Northwest home. 
More than 41,000 wildfires have burned across the West and Upper Midwest so far this year, spewing microscopic particles from burning trees, plants, homes, businesses, and vehicles, into the atmosphere. Some of that pollution likely has found its way into your Bend home. 
HomeRx, a heating, ventilation, and air conditioning (HVAC) company serving Oregon and Washington, can help you remove airborne particulate matter and gaseous contaminants with indoor air quality technology. We offer solutions that fit your specific needs in your home. 
Wildfire smoke, which can enter your home through doors, windows, ventilation systems and cracks, isn't the only source of indoor pollution. Dust mites, bacteria, viruses, mold, fumes from household products and off-gassing from home furnishings can contribute to poor indoor air quality (IAQ).
You may be breathing a whole lot of contaminants—from wildfire smoke to pet dander—and not even realize it, until you notice your asthma or allergies worsen when you are at home.
In addition to triggering allergies, indoor air pollutants can lead to infections, and chronic lung diseases. Some contaminants, such as lead, can cause seizures, organ damage, anemia, cancer, and even death.
What You Can Do
The best way to maintain good indoor air quality in your Bend home is by stopping the source of pollution. If you smoke, do it outdoors. When you cook, run your stove's exhaust fan.
Keep your home clean and free of dust. According to the American Lung Association, "hundreds of thousands of dust mites can live in bedding, mattresses, upholstered furniture, carpets or curtains in your home." Use a damp cloth or duster to minimize the amount of dust stirred up when you clean. 
Seal cracks in the foundation and crawl space. Store hazardous chemicals outside your home and use less-toxic cleaning and household products. Keep the humidity level under 50 percent to discourage mold growth.
Use Air-Cleaning Technology
Taking these steps to eliminate pollution sources, and to prevent outdoor contaminants from getting into your home, will help improve indoor air quality. However, they work best as part of a broader strategy.
An air scrubber can take indoor air quality improvement to the next level in your Bend home. HomeRx recommends Air Scrubber by Aerus with ActivePure® Technology. 
Air scrubbers are available as portable units that clean just one room or as whole-house devices that are cable of cleaning air and surfaces in about 3,000 square feet of space. They differ from
other whole-house air purification systems that use ultraviolet (UV) light or high-efficiency particulate air (HEPA) filters to trap and destroy contaminants as air flows through your HVAC system.
The Air Scrubber by Aerus, which is installed in an air duct, cleans bacteria, pet dander, viruses, dust, mold, volatile organic compounds (VOC), smoke, and other contaminants from both the atmosphere and surfaces.
As microscopic water and oxygen molecules in the air pass through the air scrubber's honeycomb-shaped cell, they are transformed into powerful disinfecting oxidizers in the form of ions and hydroperoxides. As the scrubber ions and cleaning molecules exit the air duct, they actively seek out and destroy pathogens and other pollutants in the air, on clothing and other surfaces.
Air scrubbers reduce wear and tear on your HVAC system by destroying dust and other contaminants in the air before they reach your heating and cooling equipment.
Take Steps to Clean Your Air
Ask our HomeRx team for a consultation on your indoor air quality. We will find the sources of pollution in your Bend, OR, home and will recommend the best solution to eliminate them. Call us at 503-479-5290 or request service online.